Donald Trump lashed out at Mitch McConnell Tuesday for blocking Democrats' efforts to quickly pass the $2,000 relief check legislation, claiming Republicans in Congress have a 'death wish' for opposing the measure.
'Unless Republicans have a death wish, and it is also the right thing to do, they must approve the $2000 payments ASAP. $600 IS NOT ENOUGH!' the president warned on Twitter Tuesday afternoon.
He also said the GOP has to stop Democrats from 'stealing' the election and demanded, as part of his continued objection to the National Defense Authorization Act, that Congress act to toss out legal liability protections for 'big tech.'
'Also, get rid of Section 230 – Don't let Big Tech steal our Country, and don't let the Democrats steal the Presidential Election. Get tough!' Trump tweeted to Republicans.
McConnell stopped Senate Minority Leader Chuck Schumer's request Tuesday for unanimous consent to quickly pass sending $2,000 stimulus checks to Americans rather than the $600 already included in the recently-signed coronavirus relief bill.
Senator Bernie Sanders threatened to hold the Senate through New Year's Day if a vote is not held on the measure to send out increased payments.
McConnell chose not to bring the bill to the upper chambers' floor for a vote Tuesday, even after Sanders said he would filibuster another crucial vote in protest of not giving additional financial aid in the midst of the coronavirus pandemic.
'The overwhelming majority of Americans want that,' Sanders told reporters on Capitol Hill of the checks before heading in the Senate chamber Tuesday. 'Trump wants it, Biden wants it, Pelosi wants it, Schumer wants it. Let's have a vote, and let's pass this damn thing.'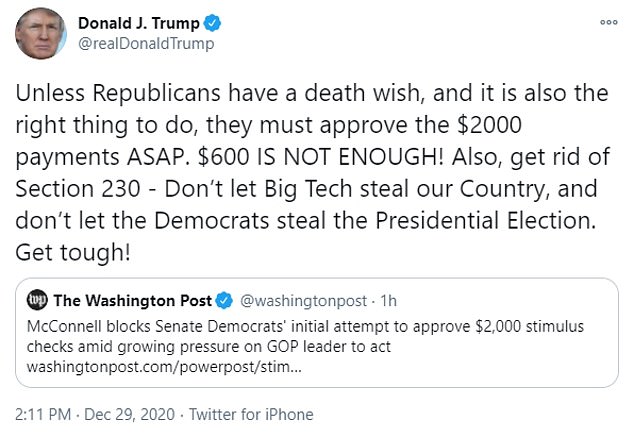 This is an excerpt from Dailymail